GTO Celebration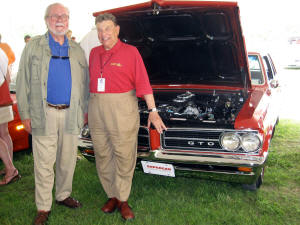 Join musclecar enthusiasts of all makes and models on March 8, 2014 as Jim Wangers, "Godfather of the GTO," and the Automobile Driving Museum present a GTO Celebration at the Automobile Driving Museum in El Segundo, CA (Los Angeles) to celebrate the Pontiac GTO's 50th birthday and the dawning of a new automotive era, the era of the American Musclecar.
The GTO Celebration features a provocative presentation by Jim Wangers, a catered lunch, a celebratory concours style display of 50 of the region's best Musclecars, and a Show 'n Shine car show open to all performance cars.
In what today is defined as one of the most significant moments in GTO history, Jim Wangers convinced David E. Davis, Editor of Car and Driver magazine, to conduct a comparison test of the Pontiac GTO versus a Ferrari GTO. The March 1964 issue of Car and Driver hit newsstands with the test results and, as they say, "the rest is history!"
The Automobile Driving Museum will "launch" the GTO Celebration in January 2014 with a special GTO exhibit featuring perhaps the most famous GTO of all-time, the very 1964 GTO used by David E. Davis and Car and Driver magazine in the infamous GTO vs. GTO test article. Yes, this is the "ringer" that Jim Wangers spec'd out for the magazine test.
Join the GTO Celebration by visiting the Automobile Driving Museum website, www.theadm.org. Don't forget to join us on Facebook at GTO Celebration for continuous update on this and other GTO Celebrations.