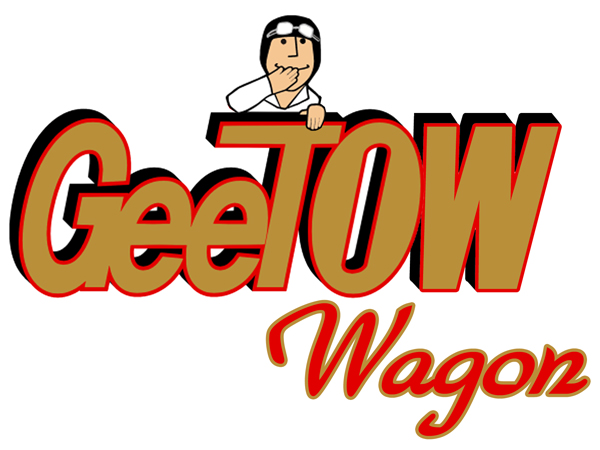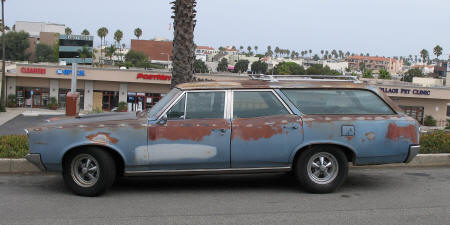 My biggest project, the one I am furiously trying to complete is my GeeTOW Wagon. This is a car I have always wanted to build—a GTO Station Wagon. Wagons continue to grow in popularity with the hot rod/performance enthusiast. The basis for this project is a 1966 Pontiac Tempest Custom Wagon. The car is going through a complete restification (restored/modified) transforming a 1960s family grocery getter into a GTO Station Wagon featured as the contemporary tow vehicle for the reincarnated GeeTO Tiger just like they did back in 1966.
The intent of the project is to demonstrate to GM A-Body (and mid-60s wagon) owners the availability of drive-train, suspension, braking, interior and electrical products geared towards improving performance and driver comfort. Each area of improvement/reconstruction will be documented and published as technical features.
When purchased, this '66 Tempest Custom Station Wagon was in desperate need of attention. The car had sat behind a shop, under a tree and you guessed it—had a great deal of rust in the roof and around the rear side windows. Until the car was stripped I really didn't know how bad things were!
Modifications
The "wagon" is currently under construction and scheduled for completion soon. Look for the GeeTOW Wagon at Pontiac events soon. The wagon will be driven from event-to-event and will be on display with Jim Wangers, the "Godfather of the GTO".
The following areas of restification are the central subjects for published technical articles featuring contributing partner sponsors. Look for media coverage of the GeeTOW Wagon in magazines like the Legend, Smokes Signals, High Performance Pontiac, Musclecar Review and others.
Engine & Drive-Train
Chassis
| | |
| --- | --- |
| | Global West Suspension G-Plus tubular upper & lower control arms front & rear, performance coil springs, front and rear sway bars |
| | Stainless Steel Brakes Corporation Tri-Power 4-wheel disc brake upgrade with billet master cylinder |
| | Hydroboost from Power Brake Service. |
| | Patterson's Garage frame restoration and assembly of new suspension components |
Wheels & Tires
| | |
| --- | --- |
| | 18" Old School Retro Wheels |
| | BF Goodrich g-Force T/A KDW Tires |
Exhaust
Interior
Restoration Parts
| | |
| --- | --- |
| | Wiring harness from American Autowire 64-67 GTO Classic Update Series |
| | PPG Paints — California Gold (GM 1998 factory color) |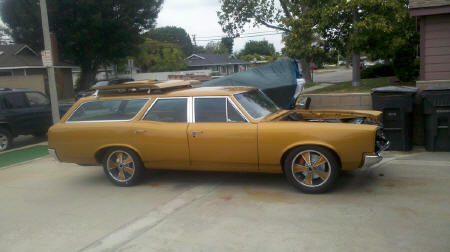 More photos will be up soon!