Thanks for visiting 4myPontiac.com. Since my early childhood I have had a love affair with all things Pontiac. One of my earliest remembrances was a the thrill of a lifetime racing down the San Bernardino Freeway (that is what they used to call the 10 Freeway back then) riding in the back seat of the family '58 Pontiac. With the throttle stuck?yes stuck?wide open my mom Jan raced across all lanes and then finally did get us stopped just off the freeway at Rosemead Boulevard. My mom was scared to death; I thought it was fun!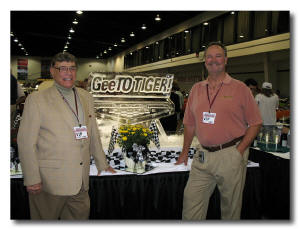 Well, that was me, Dave "Big Injun" Anderson riding in the back seat as a child. Today I am fortunate to ride up front behind the wheel of Jim Wangers' GeeTO Tiger. A nostalgic reincarnation of the famous GTO and promotional show that thrill thousands back in 1966. In its new fur, the Tiger puts on quite a show at Pontiac and race events around the country.
Putting together the "new" GeeTO Tiger program and working with Jim Wangers, the Godfather of the GTO, I have been fortunate to build many GR-RRRreat friendships with some outstanding Pontiac people and performance suppliers. 4myPontiac.com is the home to my experiences?Pontiac editorial, Pontiac tech, Pontiac products and Pontiac racing news.
I am a proud member of the Southern California Gathering of Goats and the SoCal Chapter of POCI (local POCI and GTOAA chapters) as well a member of the respective parent organizations Pontiac Oakland Club International and the GTO Association of America. I encourage all Pontiac enthusiasts to join these fine organizations.